NO ONION, NO PEPPERCORN Bone Broth 1 Quart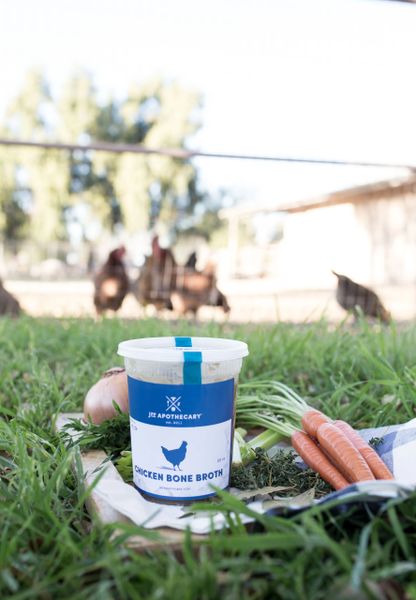 Our customers asked for it and here it is!  Onion Free and Peppercorn Free broth for both you (with food sensitivities AIP Paleo) and your pets to enjoy!  Same recipe as our regular broths, just without onions and peppercorns so that it's suitable for dogs and cats. We never use garlic in any of our broth recipes.  We make this in limited specialty batches and may not always have in stock.  
Nov 2019: now  available in turkey, bison and chicken.
Full GAPS Chicken Meat Stock is also available upon request. This is gently simmered only 4 hours, available seasonally, so please call us at 855-55-Broth to inquire.  

Like our other broth packs, 5-8 of these can serve as a great "Bone Broth Starter Kit" for those who are wanting to MAINTAIN good health by incorporating 8 ounces a day, for one month.  A great HEALING addition for those following a 30-day protocol, fast, or cleanse.  Delivered frozen in cooler bag.  Stores frozen for 6 months and refrigerated for 7 days.  Can be refrozen. 
11/25/19 Current Flavors: Chicken, Bison, Turkey.  Other flavors will be specially made with 8 jar minimum order.
Ingredients: Filtered water, grass-fed bones, OR pastured organic bones, Organic: celery, carrot, apple cider vinegar, parsley, thyme, bay.  Broth is cooled before filling 28oz and freezing in BPA-Free freezer safe plastic quarts.
We are fortunate to live in the great state of Arizona where cattle is one of our three largest export crops.  We have paired with our friends at www.jhgrassfed.com to source our local Cave Creek, AZ 100% grassFED and grassFINISHED lamb and beef bones.