Grass-fed Ghee (clarified butter)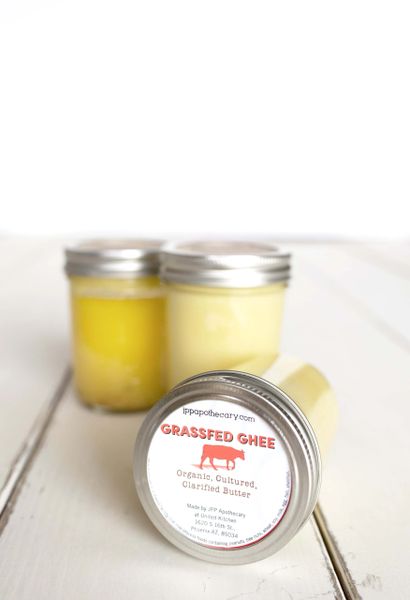 Grassfed, organic, cultured ghee in 8oz or 16oz glass jar.  Clarified butter has a high smoke point, 99% lactose- and casein-free, longer shelf life, and a nutty, caramel aroma and flavor.  Indian and Asian cultures use it in their curries and stir-frys.  Many people use grassfed Ghee in their "bulletproof" coffee.

We have partnered with a creamery who practices "intensive rotational grazing", an alternative and sustainable farming method with no more than 3 dairy cows per acre. Cows seek out food naturally and this provides them with a happy, healthy lifestyle. 

Compound Grass-fed Ghee is NOW available.  All ORGANIC Ingredients.   
Roasted Garlic Herb
White Truffle Chive
Please contact us for shipping rates on ghee only.  
APPROXIMATE Nutritional Facts for Regular Ghee
Serving Size 1 Tbsp (14g)
Calories 110
Calories from Fat 110
Total Fat 12g    18%
Saturated Fat 7g    35%
Trans Fat 0g
Cholesterol 30mg    10%
Sodium 0mg    0%
Total Carbohydrates 0g    0%
Sugars 1g
Vitamin A 8%