Get Well Gift Package - 8 Qts Bone Broth, engraved spoon, tallow balm & gift tote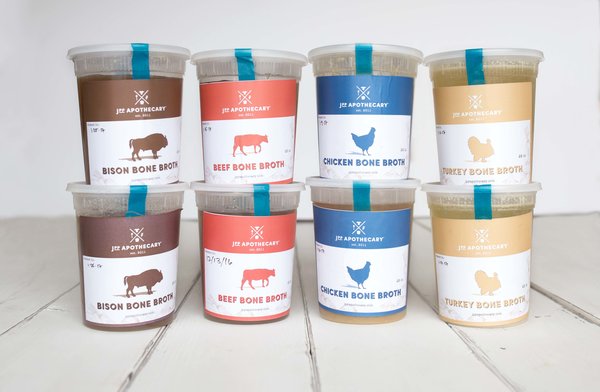 Send your loved one a HEALING and NOURISHING "Bone Broth Starter Supply". If you could show up with some homemade soup for your ill family member or friend - you would! And now you can send them that same comfort and love, delivered to their doorstep. We'll include an engraved silver-plated soup spoon reading "Be Well", a tallow lip balm, and place it all in an upcycled canvas tote bag with a jar of Celtic Sea Salt. It'll feel like the farmer's market came to them! If your friend has not heard of "broth-ing", we even include an informational flyer. Consider adding on the cookbook too so that they fully understand the nutritional benefits of Bone Broth http://grassfedbonebroth.com/t/recipes
The 8-pack of broth is a wonderful 14-28 day restorative protocol if drinking 1-2 8oz mugs per day. Many use this as a healing addition when following a 30-day protocol, fast, or cleanse.
Pick-up, Home Delivery or Shipping options will be selected in your online checkout process. Deliveries are made Tuesdays 2-6pm. Please leave a cooler in a shaded spot for us. FedEx shipments depart on Mondays with 2-3 day delivery. Tracking info is sent via email from FedEx. Weekly orders need to be received by noon Monday.

Flavors: AZ grassfed Beef, AZ grassfed Lamb, Pastured Organic Chicken and Wild Alaskan Fish STOCK (4 hour cook only). Out of season in Sept: Pastured Pork & Beef "Hearth" Broth with Rosemary (seasonal), Grassfed Veal (seasonal), Pastured Organic Turkey (seasonal), AZ grassfed Bison.

We are fortunate to live in the great state of Arizona where cattle is one of our three largest export crops. We have paired with our friends at www.jhgrassfed.com to source our local Cave Creek, AZ 100% grassFED and grassFINISHED lamb and beef bones.

Ingredients: Filtered water, grassfed/grassfinished bones OR pastured organic bones, Organic: celery, carrot, onions, apple cider vinegar, parsley and herbs. Broth is sold frozen in BPA-Free freezer safe plastic quarts. 28 oz+/- before freezing. Stores frozen for 6 months and refrigerated for 7 days Can be refrozen.