8 Quarts Bone Broth (1 Month Supply)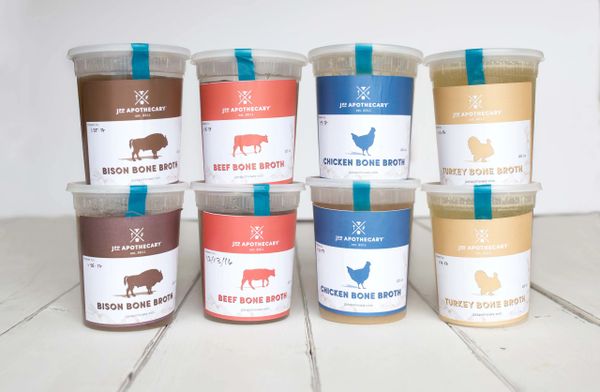 This is a perfect "Bone Broth Starter Kit" (28 servings total) for those who want to MAINTAIN good health by incorporating 8 ounces a day, for one month.  A great HEALING addition for those following a 30-day protocol, fast or cleanse.  Choose 8 jars of your flavor preference.  Delivered frozen in cooler bag to your doorstep.  Stores frozen for 6 months and refrigerated for 7 days.  Can be refrozen. 

Pick-up, Home Delivery or Shipping options will be selected in your online checkout process.  Deliveries are made Tuesdays 2-6pm.  Please leave a cooler in a shaded spot for us.  FedEx shipments depart on Tuesdays with 2-3 day delivery.  Tracking info is sent via email from FedEx.   Weekly orders need to be received by noon Monday.  

Flavors:  AZ grass-fed Beef, AZ grass-fed Bison,  Grass fed veal with pork beef tomato and salt,  pastured organic turkey, Pastured Organic Chicken.  Onion-/Peppercorn-Free Avail in; Chicken and Bison.  

We are fortunate to live in the great state of Arizona where cattle is one of our three largest export crops.  We have paired with our friends at www.jhgrassfed.com to source our local Cave Creek, AZ 100% grassFED and grassFINISHED lamb and beef bones. 
Ingredients: Filtered water, grass-fed bones OR organic pastured bones, Organic: celery, carrot, onion, apple cider vinegar and herbs.  Celtic sea salt included.  Broth is sold frozen.  Broth is cooled to room temperature before being packaged in 32 oz BPA-Free freezer safe plastic, filled about 28 oz+/- before freezing.